Sam

Biographical Information

Name

Samantha Dutton

Gender

Female

Age

17-18

Family

Status

alive

Film Information

Actor
Personality
Edit
Very sweet and amazing, she's very outgoing and fun to be around. Thoughtful for those around her, and overcoming many of the issues that Charlie is going through.
Relationships
Edit
Charlie was one of Sam's closest friends. Sam only saw him as a friend until she
and her boyfriend Craig broke up. Then she realized she started to have feelings
for Charlie. Before Sam left for college, Charlie and Sam were in her room
making out until Charlie said that he "wasn't ready."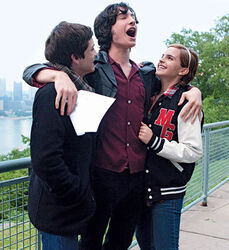 Patrick is Sam's step-brother. They often hang out with each other and get along well. Before Charlie had known of them being step-siblings, he had thought that Sam and Patrick were dating. Patrick claims that he used to be popular before Sam got him 'some good music', and jokingly warns Charlie that she'll ruin your life forever'. And he is gay.
Ad blocker interference detected!
Wikia is a free-to-use site that makes money from advertising. We have a modified experience for viewers using ad blockers

Wikia is not accessible if you've made further modifications. Remove the custom ad blocker rule(s) and the page will load as expected.