Sam

Biographical Information

Name

Samantha Dutton

Gender

Female

Age

17-18

Family

Status

alive

Film Information

Actor
Personality
Edit
Very sweet and amazing, she's very outgoing and fun to be around. Thoughtful for those around her, and overcoming many of the issues that Charlie is going through.
Relationships
Edit
Charlie was one of Sam's close friends. Sam only saw him as a friend until her
and her boyfriend Craig broke up. Then she realized she started to have feelings
for Charlie. Before Sam left for college, Charlie and Sam were in her room
making out until Charlie left.
Addition: Charlie and Sam were not just making out , they had sex the night before Charlie left. Most of the readers of this post are probably far too young to recognize "50-60" movie sex. Those were the days of fairly severe rules about on screen sex.
The movie offers a classic example of movie sex in those days.
Scene one : They are kissing but charlie flinches when Sam rubs his leg (flash back to Aunt) When Sam asks what's wrong, Charlie hesitates and then says "nothing..and they go back to the kiss
Next Scene : Charlie walks down the driveway of Sam's house the next morning and gives her a tender kiss goodbye. The key is HE'S WEARING THE SAME CLOTHES he had on in Sam's bedroom the night before.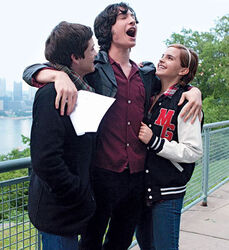 Patrick is Sam's step-brother. They often hang out with each other and get along well. Before Charlie had known of them being step-siblings, he had thought that Sam and Patrick were dating. Patrick claims that he used to be popular before Sam got him 'some good music', and jokingly warns Charlie that she'll ruin your life forever'. And he is gay.
Ad blocker interference detected!
Wikia is a free-to-use site that makes money from advertising. We have a modified experience for viewers using ad blockers

Wikia is not accessible if you've made further modifications. Remove the custom ad blocker rule(s) and the page will load as expected.